The Ultimate Poker Membership
The PRO Membership is the perfect study tool for intermediate players looking to break into advanced strategies that are effective in today's games. Join PRO today and get access to everything you need to start dominating the games you play.
unlimited access • $50/month • cancel anytime
What Do You Get With PRO?
With the PRO Membership, you get an entire training suite to turbo-charge your poker strategy. Get instant access to every video, every course, and every range focused on refining the skills you need to beat the games you play.
Poker Courses Designed For You
Our courses are targeted at key areas of modern poker theory, created by coaches with a proven track record. Here are just some examples:
THE DEVIATE COURSE
Our latest course identifies the ways in which your opponents deviate from solver-approved GTO play, and then based on those results, you'll learn how to most profitably deviate from GTO to punish your opponents' deviations.
The GTO+ Course
While we have lots of GTO-specific material, The GTO+ Course will get you up to speed on using the GTO+ solver. Learn how to set up game trees correctly, interpret solver output, and pull proper strategies from your optimized GTO exploration.
The Live Cash Game Course
This course inspired Ed Miller's book "The Course" and is designed for live cash-game players. Learn the strategies and tactics that directly exploit the mistakes made by your opponents at $1/$2, $2/$5, and even $5/$10.
Fox On Tournaments
WSOP bracelet-winner Chris "Fox" Wallace reviews member MTTs, going step-by-step through complete tournament hand histories. Follow along with Fox, then start fixing those leaks that are preventing you realizing your full tournament potential and profit.
The Bet Sizing Course
*MUST-WATCH*
This technical course lays out bet sizing as you've never seen it before. Learn the key variables behind an optimal sizing strategy and start using exploitative concepts both preflop and postflop. This course is a must for all serious NLHE players.
Your PRO Membership also includes complete access to CORE. CORE is our A-Z poker course focused on beginner-intermediate players, and is the perfect way to study if you are still building your strategic foundation.
CORE contains over 200 lessons that cover everything from math, to major concepts, to modern theory.

Get HH breakdowns that bridge the gap between theory and practice (with links to related concepts if you need a refresher).

Complete quizzes that test your knowledge and give you immediate feedback on your leaks.

Earn badges and compete on our leaderboard to see where you stand among over 15,000 players.
And Get Every Preflop Range
PRO grants you total access to The GTO Ranges App. Put our entire preflop range selection, including GTO and exploitative versions, right in your pocket.
Here are the preflop ranges you get instant-access to:
Live cash game GTO (world's-first most complex solve)

6-max cash game GTO

Tournament GTO at various stack depths

Full-ring online cash game exploitative

Live cash game exploitative

6-max cash game exploitative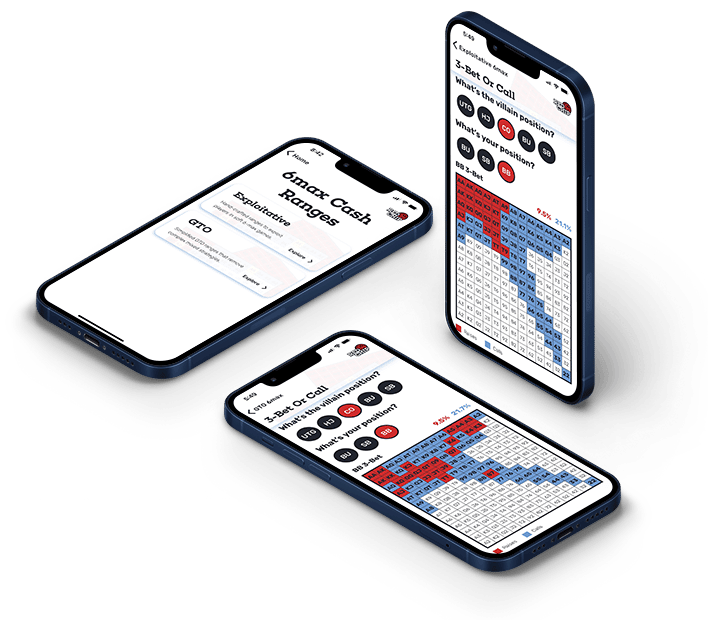 Playing stronger poker means studying the right stuff, the right way. Grab your PRO Membership today and see how iterative study sessions will boost your confidence, aggression, and ability to optimize lines at the table. Transform your game by studying smarter than ever.
$50/month • cancel anytime
save over $100 • cancel anytime
What Are Other Players Saying?
I am extremely pleased with the teaching offered at Red Chip. I had a Core 2.0 membership, but I wanted to study the GTO starting hands, so I upgraded to PRO. Using the strategies recommended by Red Chip, I have been able to build a bankroll that is almost ready to take another shot at 100NL. I simply studied and followed directions…The best part is I don't need additional site(s). This is a coherent philosophy that works if followed. Thanks!
· Matt
I just wanted to congratulate you guys on an awesome site. I've joined a couple other online training sites, but their videos are boring and not helpful. I've only watched a couple videos from you guys, and they've been solid.
· Joshua
The GTO+ Course is lovely. It will save me a "crapload" (technical term) of searching around or pestering my coaches as to how to do something on GTO+. It will also make my sessions and questions to them MUCH more sophisticated. So overall, WELL DONE and it speaks to why Red Chip is the best of the learning programs/communities out there.
· Joe
Absolutely in love with the recent videos. w34z3l has really made me think on a different level about by game. I really like his insistence on protection in particular as a general framework for thinking about how to play certain hands. I've always felt that somehow it's not enough to just c-bet flops with vulnerable holdings and these videos have really given me the insight to extend this idea in more spots.
· LeChiffre
Love the site. I'm a $2/$5 live player with an average of +$350 per session from records kept for roughly 4 years of play. Really 3 due to a year lost to covid. After watching the site's videos, podcast, and studying the systems presented my average went up to +$550 per session. The numbers might be a bit skewed due to earlier years playing mistakes but even taking my last year's worth of play compared to my sessions since beginning the site my numbers are still up a lot and what's even more so I feel an increased confidence in my decisions.
· Anon PRO Subscriber
After doing a bunch of research I know that RCP is the best place to start some serious studying. I started CORE 2.0 and soon I will upgrade to PRO. RCP is a big help and I want to thank the RCP team for the great job they're doing.
· RuKdnnMe
Are there any discounts for PRO on Red Chip Poker?
Yes, there is a discount for over $100 when you sign up for an annual PRO pass. That is more than 2 months of PRO for free and you don't need to worry about any monthly charges.
What is included in PRO?
PRO includes our entire poker video library, every course, complete access to CORE, and every single range in The GTO Ranges App.
Are there any signup fees?
Nope. Unlike other training sites that require you to pay a stupid signup fee, we skip the gimmicks to give you a better membership price.
Can I cancel PRO at any time?
Yup. Simply go to your My Account page to manage your subscription. Cancellation is simple and does not require any phone calls nor cancellation fees.
What if I need help as a member?
This is where our Discord comes into play. Our coaches regularly answer questions, and you can even request a custom study plan from our resident content expert, Kat (@GameKat)
Are any books included with PRO?
Who are the PRO coaches?
Our coaches extend from WSOP bracelet winners to accomplished poker authors to professional grinders who are experts at communicating their strategies. The Red Chip Poker roster of coaches includes James "SplitSuit" Sweeney, Ed Miller, Adam "W34Z3L" Jones, Andrew Brokos, Chris "Fox" Wallace, Gareth James, and more…
I have more questions. Help!
It's Time To Start Training Like A PRO